This article gives information about the version, release and patch number of zapAudit. It also explains how to treat changes with the change log matrix.
The change log matrix helps you to decide whether it is worth reprocessing a data set. It includes a list of features and bugfixes with your resulting Task: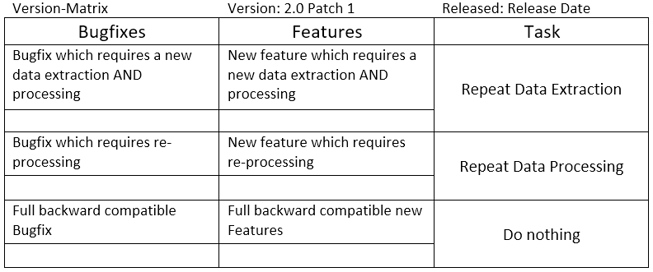 We deliver our software according to the scheme: Version. Release Patch e.g. "2.0 Patch 1" or "2.1 Patch 3"
Version: Includes bugfixes and major feature.
Release: Includes bugfixes, features and change the results in the zapAudit report. Thus a release step requires reprocessing of all data sets.
Patch: Includes bugfixes, minor features, but does not change the results of the zapAudit report. Thus, patches are fully backward compatible. Updating zapliance with patches do not require reprocessing of data sets.