Hardware requirements vary during zapAudit or zapCash projects. Here you will find all the necessary information about the correct set-up.
Notebook scenario: zapliance on a notebook or desktop PC
The hardware requirements differ depending on the data volume. A high-performance system with the following requirements is recommended for data extraction and processing:
Minimum system requirements:
Windows 64bit operating system (e.g. Windows 10, 11).
Recommended memory (RAM) for zapAudit:

At least 32 GB for company codes/fiscal year up to 1 million BSEG entries
At least 64 GB for company codes/fiscal year up to 6 million BSEG entries
At least 128 GB for company codes/fiscal year with more than 6 million BSEG entries

Recommended memory (RAM) for zapCash:
Modern multi-core processor (see "Recommended system requirements" for further reference)
1TB SSD hard disk (formatted with NTFS file system)
Optional: USB 3.0 or newer (when using an external SSD hard drive)
The above requirements are best practice values and should allow smooth data processing for common data sizes.
Do not use network drives!
The usage of network drives is not possible and will result in errors and performance issues while data processing.
For example: Installing zapAudit on Z:\ or directing the zapAudit Workspace to Z:\zapAudit\ will not work: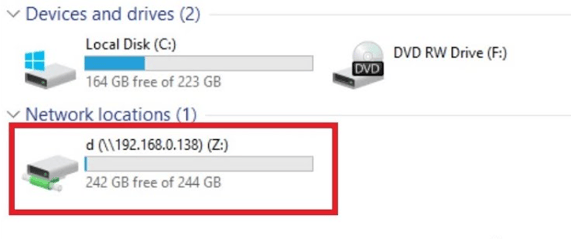 Recommended system requirements:
It is crucial that the processor, hard drive, memory and the components connected via the mainboard work well together for high-performance data processing.
Your hard drive should support read and write speeds of up to 300 MB/s. We recommend a "rating" score of more than 4,000 points. This is the case for most solid-state drives (SSD) and we advise against the use of an hard disk drive (HDD). You will find an overview at http://www.harddrivebenchmark.net/high_end_drives.html
The minimum rating of the CPU used should be 2,500 points. However, we recommend a value of at least 3,000 points to achieve a satisfactory performance. You can find an overview at https://www.cpubenchmark.net/singleThread.html
If memory is low
If the system runs out of memory during data processing, zapliance will start transferring data from the memory to the hard drive automatically (known as virtual memory). This is usually done by writing to the hard drive where the operating system is installed. To prevent performance problems, we recommend installing zapliance on a different hard drive to the operating system.
Note: The best solution in such cases is to add more memory.
We recommend the use of a virtual machine to be able to dynamically adjust system resources.
2. Server scenario: on a (virtual) server
Requirements:
Windows 64-bit operating system (e.g. Windows 10, 11, Windows Server 2016 or newer)
Up to 256GB memory
CPU with at least 8 cores (see notes for a laptop)
1TB hard drive storage - SSD hard drives speed up data processing and working with large amounts of data (NTFS-formatted file system).
Recommended for virtual servers:
We recommend not running other resource-intensive virtual machines parallel to the virtual machine where zapliance is running. At least for the duration of data processing.
To save system resources, we advise you to set the server's memory to the maximum before processing and reduce the memory to 32 GB after processing is complete.
Important note for using VMware: If possible, deactivate the "Hot Plug" function of your system to avoid possible performance issues. If you are uncertain about this function, please consult with your system administrator whether this concerns you.
3. External drive scenario: zapliance on an external hard drive
In principle, zapliance can also be installed on and started from an external hard drive.
The Windows user must have full read and write access to the hard drive.
The hard drive is formatted with the NTFS file system! (FAT32 can only manage files up to 4GB. exFAT does not grant write access to other Windows accounts by default.)
For performance reasons, use SSD instead of HDD!
Please also take the notes for the Laptop or Server scenario into consideration.
Further information about the hardware
How much memory is actually needed depends on the nature of your data. This is down to the individual logic of your company's postings in SAP. Experience has shown that 32GB of RAM is sufficient for 90% of data sets. If you are setting up a server system, start with 64GB of main memory. If data processing terminates due to an 'Out of Memory' error, it can be repeated later with more memory.
The high memory requirement is particularly necessary for the data processing phase.
Data extraction and processing can take a few hours or days depending on the amount of data involved.
If your system resources are not sufficient, please get in touch with us. We offer a service to determine the correct level of system resources for every project!
Connection to SAP
The corresponding hardware requires a network connection to the SAP System. This is required for at least the duration of the data extraction.