Since zapAudit and zapCash are web applications it is vital to do a clean shutdown. Learn how to do this.
Open the zapliance installation directory and double-click shutdown.bat to end the application server.

Shutdown may take longer if data processing is in progress. The operation that was last triggered is completed. This may take several hours and should not be interrupted. Note that Windows classifies zapliance as a background process (see screenshot). Your task manager (Ctrl + Shift + Esc) will not list the "zapliance.exe" process among the normal processes (see screenshot).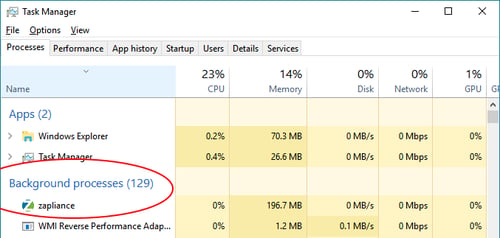 Never shut down your computer without shutting down zapliance first with shutdown.bat. In the task manager, make sure that the background process "zapliance.exe" is no longer running before shutting down Windows. (If you have no data processing or extraction running, zapliance will usually shut down within seconds.)
The browser window can be closed at any time. ATTENTION: Closing the browser does not terminate the application server.