This is a quick guide to show you how to export your project results to train the AI and import the results back in zapCash
Exporting and importing your project is only available for admin and auditor users.
Export your results
First login to zapCash and select your activated project. Then click on the field called "Import/ Export".

To train our AI and to get AI-based scores, you are required to download 9 different files. By default, all buttons are already selected to ON. Simply leave the setting as it is right now.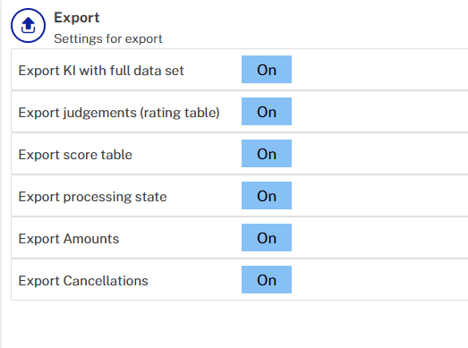 Next, click on "Export" and you will directly download the export to your download folder.
Go to the folder and send your exports (.zip file) directly to your zapliance contact person or to our support.
Good to know: zapliance has at no time access to your zapCash project!
The export files only contain datasets that are not trackable to any person's or customer's data back.
---
Import your AI-based results
After short, you will be getting an import file back (.zip file), which will enhance your results based on the AI. You are now required to import the .zip file directly to the software zapCash.
Go back to the import/export window and select "+choose". Select the file we send you back and press the "import" button.

If everything is done correctly, your project will now get updated by new scores and ranks. This can take some minutes. So be patient and do not go back to the overview, or else the import will stop. If you see new scores, you are DONE!
For more useful tips and information, read this article Best sampling and search strategies for zapCash
Did you receive proper training to zapCash already? If not, go ahead and contact us at any time. We will be happy to give you an introduction and show you how to operate zapCash.
---