At a glance: All the SAP user role authorizations you need to use zapAudit.
The SAP user who will be using zap Audit needs certain SAP access rights. These access rights must allow you to access your SAP System via Remote Function Call (RFC). You need an SAP user with full RFC_READ_TABLE access authorizations.
You can also use a system user (USTYP B in USR02) instead of a dialog user (USTYP A in USR02).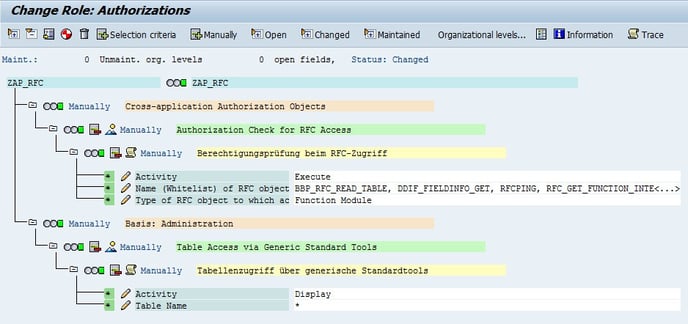 The following access rights should be in place at a minimum:
S_RFC
Activity (ACTVT): Execute (16)
Name of RFC object (RFC_NAME): BBP_RFC_READ_TABLE, DDIF_FIELDINFO_GET, RFCPING, RFC_GET_FUNCTION_INTERFACE, RFC_READ_TABLE
Type of RFC object (RFC_TYPE): Function Module (FUNC)
S_TABU_NAM
Activity (ACTVT): Display (03)
Table Name (TABLE): *
The field "Table Name (TABLE)" of the object S_TABU_NAM should be set to *, as zap Audit is continuously developed and improved. This setting causes the access rights to all tables.
For manual containment of SAP tables, please enter the following tables in the field "Table Name (TABLE)" as follows:
DD17S, T000, T001, T009, T009B, T001K, DD07T, NRIV, T001L, T001W, T003, T003T, T005, T005T, T007S, T011, T011T, T014, T023T, T030K, T030W, T041C, T041CT, T043, T052, T052U, T074T, T077S, T077Z, T093, T093C, T093T, T100, T134T, T156, T156T, T159L, T161, T161T, T163, T173, T173T, T685, T685T, T880, TABW, TABWT, TBSL, TBSLT, TCURC, TCURT, TCURX, TPFID, TSTCT, TTYP, TVAK, TVAKT, TVFS, TVFST, TVLK, TVLKT, BKPF, REGUV, BSEG, BSET, FAGL_011FC, FAGL_011PC, FAGL_011QT, FAGL_011SC, FAGL_011TC, FAGL_011VC, FAGL_011ZC, REGUH, REGUP, SKA1, SKAT, SKB1, EKKO, EKPO, EBAN, EKBE, TVKO, VBAK, VBRK, LIKP, LIPS, VBAP, VBRP, VBFA, USR02, USR40, UST04, ANEP, ANLA, ANLB, ANLBZA, ANLC, ANLH, ANLZ, ANKA, ANKT, MARA, MKPF, MSEG, MAKT, MBEW, TDG41, KNB1, LFB1, KNA1, KNBK, LFA1, LFBK, KNKK, CDPOS, CDHDR, TCDOBT, DD03L,TIBAN,KNAS
Datascope from zapAudit 2.8 and zapCash 1.0
A specific listing of the required tables can be downloaded here (xlsx) or during the zapAudit project preparation.
How to set up the user role in SAP?
Use transaction SU01.
Select an SAP-User to edit.
Go to the 'Roles' tab.
Activate the 'Edit' mode (Shift + F7) and select 'change role' or double click the role.
Go to the 'Authorizations' tab.
Click 'Change Authorization Data'. You may also have to press Shift + F7 to activate editing.
In there you can click and edit the function objects.
S_TABU_NAM is not available
If your SAP system does not provide S_TABU_NAM, you can use S_TABU_DIS with activity 'Display' and * for the table authorization group.
Function Module FUNC is not available
Instead please use the function group (FUGR) with the following objects:
BBPB for BBP_RFC_READ_TABLE

RFC1 for RFC_GET_FUNCTION_INTERFACE

SYST for RFCPING

SDIFRUNTIME for DDIF_FIELDINFO_GET

SDTX for RFC_READ_TABLE
Do you want to use the same user for zap Audit as your normal SAP user?
Please note that if 'Single Sign-On' with 'Active directory' is activated, it must still be possible for your user to log on to SAP with a password.