Prepare your zap Cash project by following these five simple steps
By Artificial Intelligence (AI) and providing intuitive user guidance, zap Cash software enables the business user to identify and check liabilities potentially entered as duplicates within an SAP client. Your zap Cash preparation journey is as easy as it can get. Please follow these simple steps to get started.
1. Define the scope
Which SAP clients do you want to analyze?
What are the essential company codes?
How many years do you want to analyze?
For a zap Cash project, select company codes that make sense according to your internal organizational structures. This means: take into account any shared service centers and different currencies. Select several fiscal years, including the current fiscal year, to be able to audit across company codes and fiscal years.
2. Identify suitable hardware
zap Cash is ready for your large SAP data sets. Please talk to your infrastructure team to organize a virtual machine or equivalent with the following parameters:
Windows 64-bit operating system
64GB RAM of memory, ideally scalable between 16GB RAM and 128GB RAM
A modern multi-core processor (min. 8 cores)
1-2TB hard disk space which supports read and write speeds with at least 300 MB/s
3. Identify or apply for a suitable SAP User
Probably one of the most significant advantages of zap Cash is that there is no need to update SAP. All you need is an SAP User with RFC read table access. To be more precise, the user profile needs to look like this: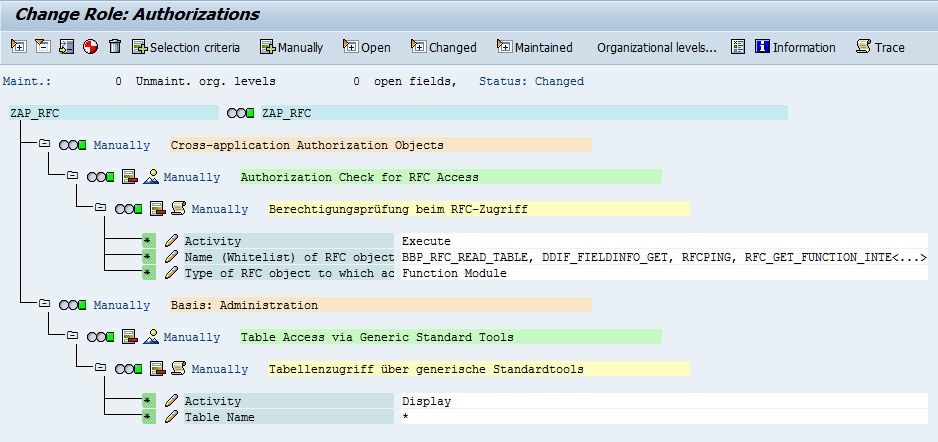 If you'd like more details on how to set up the user, please have a look at the following article:
https://knowledge.zapliance.com/installation/sap-preparation/sap-access-rights
4. Download zap Cash
zap Cash is currently in BETA mode. If you have not talked to our CEO, Alex, this is your chance!
Just write him an email or book a meeting with him directly using this link:
Once you have logged in, we will then assign zap Cash to your download area. Simply download zap Cash and follow the instructions.
5. Connect to your SAP system
Please make sure you already have these SAP connection parameters to hand (message/application server, system name, system number, client, router string) and have downloaded the SAP JCO file from the SAP Marketplace, which is free of charge.
https://knowledge.zapliance.com/installation/sap-preparation/sap-jco-library
https://knowledge.zapliance.com/installation/sap-preparation/sap-connection-guide