All critical steps from preparation to zap Audit report at a glance.
You are new to zapliance and want to test zap Audit for FREE in your company? Then this article is the best starting point.
It gives you an overview of the minimum steps needed to use the most advanced and straightforward audit software.
You will see that using zap Audit is a breeze if you follow these five steps.
1. Defining the scope
All SAP company codes with less than 50k entries per company code in a given fiscal year in table BKPF are free of charge. So let's identify company codes with less than 50k postings per year in your organization first. In a nutshell:
login to SAP
open transaction SE16 or SE16N
enter table BKPF
select a company code and a fiscal year
press "number of entries."
This link will provide you detailed guidance on how to do that.
https://www.zapliance.com/hubfs/Support/BKPF/HowTo-Amount-of-SAP-table-entries.pdf
2. Registering on zapliance.com for free
If you have identified a company code for zap Free, please go to https://www.zapliance.com/en/login and register for free. Once you have confirmed your email address, you have full access to our Audit preparation site at https://www.zapliance.com/en/audit-preparation, where you can download the latest version of our zapliance software.
3. Identifying suitable hardware
The best thing about company codes with less than 50k postings per year is that you do not need a large server to test zap Audit. As a starting point, we recommend a Windows notebook with 8GB RAM available and a minimum of 100GB of free SSD hard disk space. That's it.
If you want to analyze a more extensive company code, than please read and follow our article about hardware requirements here:
https://knowledge.zapliance.com/installation/technical-preparation/what-are-the-hardware-requirements-for-zap-audit
4. Identify or apply for a suitable SAP User
Probably one of the most significant advantages of zap Audit is that there is no need to update SAP. All you need is an SAP User with RFC read table access. To be more precise, the user profile needs to look like this: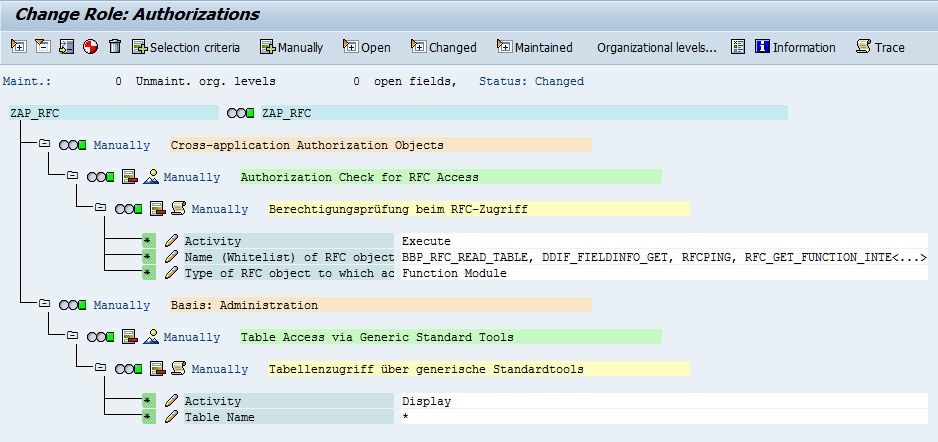 If you would like to have more details on how to set up the user, have a look at the following article:
https://knowledge.zapliance.com/installation/sap-preparation/sap-access-rights
Also, please make sure you have the SAP connection parameters (Message / Application server, system name, system number, client, router string) at hand and downloaded the SAP JCO file from the SAP Marketplace free of charge.
5. Start your free zap Audit Proof of Concept
If you have accomplished part 4, the rest is a piece of cake.
First of all, start the downloaded zap Audit version on your hardware and follow the instructions on the screen or the detailed instructions here:
https://knowledge.zapliance.com/getting-started/quick-installation-guide/getting-started-zap-audit
Once the data extraction and data processing are up and running, use the time to purchase our zap free license for 0€ at https://www.zapliance.com/en/pricing.
Data processing for small company codes typically takes between 1h and a so far maximum of 3 hours. As soon as the data processing finishes, a challenge key will appear in zap Audit. Copy the challenge key and paste it in our webshop here: https://www.zapliance.com/en/license-activation
HAVE FUN WITH ZAP AUDIT!
In case things are not as smooth as described, please read our detailed instructions or contact us at support@zapliance.com.